12x36 Sierra Sunset Unique Rustic Round Candle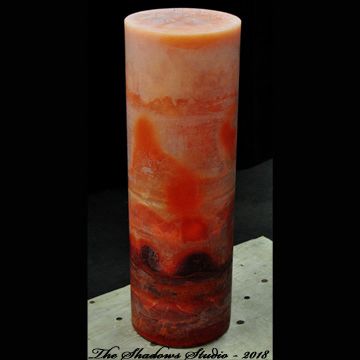 12x36 Sierra Sunset Unique Rustic Round Candle
Indoors or outdoors, extra tall large pillar candles are a great addition to any decor! These 12x36 inch extra large unique rustic candles are perfect outdoors too.

Sierra Sunset is the color of the 12x36 inch rustic candle in the picture. It's Rusty Copper on the bottom blending upwards to San Juan Sunset on the top!
When you order from our Unique Rustic Collection you'll get a true one of a kind candle!  Unique Rustic Candles are poured by hand. And, will never exactly match the picture shown.
Shadows giant floor candles are rustic and burn great. Multiple wicks give off a great soft glow to add to that special occasion you're celebrating!

The price shown is for (1) extra large round unique rustic candle.

The approximate burn time on the 12x36 inch candle is 950 hours. Of course, that depends on various factors; draft, hot or cold room....the list goes on.........