12x72 Inch Big Bad Giant Floor Candle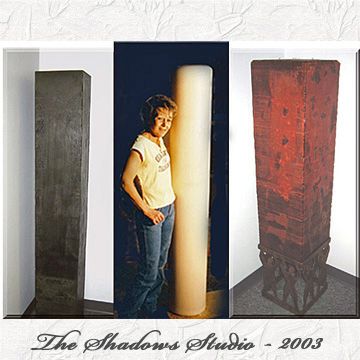 12x72 Inch Big Bad Giant Floor Candle
The price shown is for a 12x72 inch Round Pillar Candle!!!
This 12 inch giant floor candle is the biggest baddest candle Shadows pours! At 72 inches tall this round pillar candle weighs 252 pounds...you'll need a ladder to light it!
The 2nd picture is a 12x60 inch round candle that's to the right behind the other candles. The Pearl Black 6 foot square giant candle has been in our studio for years and as it ages it gets more beautiful!!
You can order it on line but, be sure to add your phone number so we can call you to make shipping arrangements - UPS will not ship over 150 pounds.  The round candle weighs 252 and the square giant candle weighs 324 pounds.
For questions or to order please call or text 720-527-2079 or e-mail susan@theshadowsstudio. Or, you may fill out the contact form.
The 72 inch square candle has been discontinued!