6x14 or 6x16 or 6x18 Inch Giant Round Pillar Candle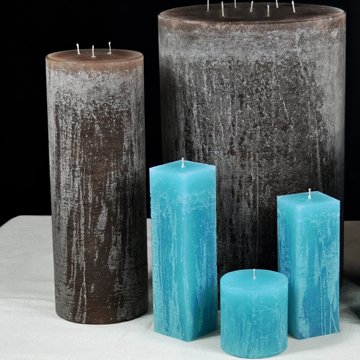 6x14 or 6x16 or 6x18 Inch Giant Round Pillar Candle
Take it to the next level and get a 6 inch wide giant candle. You can get it 14,16 or 18 inches tall. Extra tall 6 inch candles can reach up to 60 inches tall and that tall candle will really stand out in your decor!

This 16 inch tall round pillar candle is hand-poured and you have to agree the rustic and textured finish will add a unique look to your decor! The 6x16 inch candle is the one on the left side.
Large pillar candles on this site are perfect for your indoor or outdoor candle lanterns. Ample room in the candle lantern (approximately 2") between the candle and the lantern sides makes for good ventilation so the heat doesn't build up and melt your candle. All candles must be kept out of direct sunlight to preserve the candle color.

The price shown is for (1) 6x14 inch round candle. But, for a few more dollars you can choose your candle to be 16 or 18 inches tall in the drop down menu.

Burn time is approximately 224 for the 14 inch tall candle - 256 for the 16 inch tall candle - 288 for the 18 inch tall candle.