8x38 or 8x40 or 8x42 Inch Giant Round Pillar Candle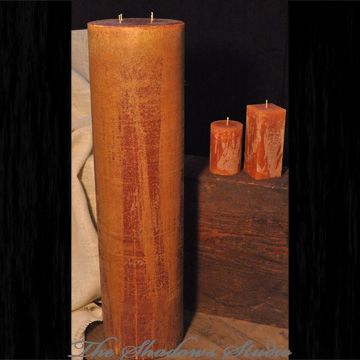 8x38 or 8x40 or 8x42 Inch Giant Round Pillar Candle
8 inch wide giant candles will be the hit at your patio party! The round candle in the picture is a 36 inch tall giant candle. Candle light from a large patio candle is amazing!
These candle sizes are very popular for weddings and outdoors!
Hand poured in the Old World European Style gives our pillar candles a rustic textured finish which is unique and will accent any decor with elegance!
You can get it unscented or you can choose how much fragrance you want in your candle, from light to strong.

The price shown is for (1) 8x32 inch candle. For a little more you can choose your candle to be 34 or 36 inches tall.
Burn time on the 8x32 inch candle is approximately 608 hours.
Burn time on the 8x34 inch candle is approximately 646 hours.
Burn time on the 8x36 inch candle is approximately 684 hours.