8x8 or 8x10 Inch Mountain Lodge Unique Rustic Candle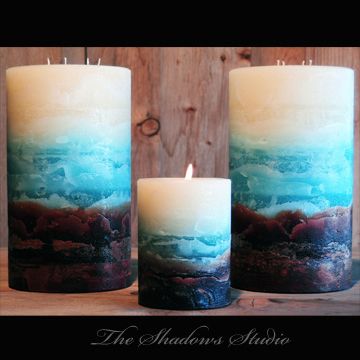 8x8 or 8x10 Inch Mountain Lodge Unique Rustic Candle
Mountain Lodge is brown blending upwards into teal and ending with white/ivory at the top!  This 8x8 inch Unique Rustic candle will fit in a 10 inch candle lantern.

If you're putting your candle in a lantern be sure to measure so you have 2 inches between the candle and lantern so there is good ventilation.
It'll make a great focal point in any room!!!
Our 8 inch candles have 4 wicks! The candles in the picture are; (1) 4 inch and (2) 6 inch candles!
The price shown is for (1) 8x8 inch round candle. For a bit more you can choose your candle to be 10 inches tall. You can also choose square.